This week I had a time getting shots of hawks. I did get four relatively good shots from different angles of two different ones. I have a photo of each one perched and in flight. I took all of these shots while standing in the middle of two very busy highways. I was driving all over the place, slamming on my brakes, pulling onto some rather slippery steep shoulders of the road and grabbing my camera as fast as possible. The first two shots are of Red Tails. I actually chased the first one for about an hour before he finally settled and I got a shot. I warn you that bird hunting can become an addiction and hazardous to your life. But, I am hooked.
I got very aggravated getting this shot. This guy was in a tree not more than twenty feet from me when I first spotted him. Just as I was about to snap the picture a truck whizzed by and spooked him. He flew across the intersection landing a good ways from me. But, I was still able to get him perched and in flight too. Of course, the quality of your viewing is not as good even though I was using my 400 MM zoom lens. I edited both pictures as best I could in hopes you could see his markings.
The rest of my shots this week of birds are pretty common. But, while my son-in-law was visiting this past week from Maine he was absolutely fascinated with seeing redbirds and bluejays. It's been cold up there for quite a few months now and he enjoyed seeing them immensely Then it dawned on me that what we might think a common and everyday ordinary bird viewing might not be so common in other areas of the country or the world. So below is an assortment of what I call everyday birds including one beautiful raven, a crow in flight and, one bird I did not have time to identify.
Click below and join us each week. It's so much fun. I always though bird hunting had to be the most boring thing in the world. Oh brother was I ever wrong.
While in the park I also spotted a possum sneaking out to get a drink of water during the daytime.
I also found three wild doe. I was using an experimental lens filter when I got the picture of the doe. I am not very happy with the quality of the image. However, I was very excited to see and get a picture of white tail doe in their natural habitat. You have to look very closely in the second picture to see all three as the two younger ones were turning and leaving the area.
This was a real lucky find and a lucky shot. You don't have to have anything exotic to join in on this meme. Most of the time my camera critters are my pets or simply the bird shots. Please don't think you have to search for critters in the wild to join in on this fun meme.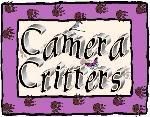 Last but not least I am also linking to,
'The Saturday Phothunt'
this week the subject for the week was
'Haven'.
I may not have a bird's nest on the ground, but, I did find one way up high in a tree. A safe
'haven'
for a bird and babies this spring.
There you have it. My edition this week of
Bird D' Pot
,
Camera Critters
and
The Saturday Photohunt.
~Happy Weekend Everyone!~